Professor of Traditional Landscape Architecture, Korean National University of Cultural Heritage
Korean gardens embody a philosophy of adapting to nature in its original state. The elements of a Korean garden include land, structures, flowers and trees, streams and ponds, rocks and walls, bridges and paths. A garden brings these elements together into harmony within a defined space through an orderly and functional arrangement.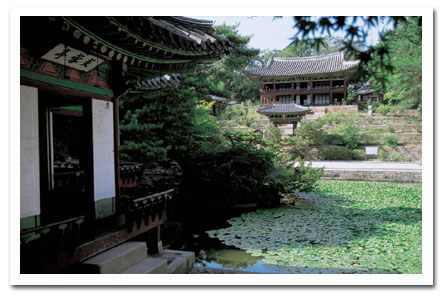 meditation. The influences that shaped the identity of the Korean garden include Korea's natural environment as well as the lifestyle and ideological values of its people, which have changed with the times.
Nature in the Traditional Garden
The Korean peninsula's three coasts are lapped by the ocean, while its mountains, rivers, fields, and seas stand out in sharp contrast, amid a constant changing of its distinctive seasons. Accordingly, the inhabitants of long ago spoke of their beautiful land as "embroidered rivers and mountains." The land of Korea is free from major earthquakes and active volcanoes. Rain falls in quantities conducive for agriculture, while the climate is relatively mild. As a result, the people could maintain a stable livelihood by working hard in accordance with the principles of nature. It was thus natural for Koreans to think of nature as a motherly being who takes care of mankind. To Koreans, nature was both an eternal spiritual essence and a comforting maternal figure. Accordingly, the indigenous religion of Korea was centered on the worship of nature. Koreans believed that life would not be possible unless the principles of nature were respected. The conceptual roots of Korean culture lie in the worship of nature. The imported ideology of Buddhism was added to this around the fourth century, while Taoist thought became widely disseminated about the seventh century. It was from this ideological background that the Korean garden was created. From the 15th century, the Song Confucianism of Zhu xi became the ruling ideology of Joseon, along with landscape architecture coming under the influence of such concepts as yin-yang, the five elements, and geomancy. In particular, Song Confucianism's view of nature strongly influenced Joseon gardens. It was through these influences that Joseon art was created, with its naturalistic style untouched by artifice, while a worldly, practical lifestyle flourished, based on moderation and diligence. Indeed, this led to the development of a highly humanistic and straight-forward naturalistic culture. Korea's cultural heritage includes nothing as monumental or imposing as the Great Wall of China or the Grand Canal that links the Yellow River to the Yangtze River. This is because Koreans believe that anything so huge will overwhelm and alienate human beings. On the other hand, Japanese have long suffered from natural disasters such as earthquakes, volcanoes, typhoons, and tidal waves. As such, they were able to survive only by overcoming these menacing forces of nature. As a reflection of this, Japanese gardens feature a contrived sense of aesthetics. All Oriental gardens are rooted in concepts about nature, but because of differences in their respective natural environment, lifestyle, and values, the gardens of Korea, China, and Japan each possess their own unique characteristics.
Gyerim Grove and Anapji Pond
The Gyeongju Historic Areas, included on the list of UNESCO World Heritage sites, contains relics of gardens from the Silla Kingdom (57 B.C.-A.D. 935). Situated
around Wolseong, the site of the Silla royal palace from 101 to 935, are Gyerim Grove and Anapji, the pond of Silla's East Palace. During the Silla period, the pond was known as Wolji or "Moon Pond," and it was not until the Joseon era that poets and men of letters started to call it Anapji, "Wild Goose and Duck Pond," for its abundant growth of reeds and duckweed that made it a popular rest stop for wild geese and ducks. The 7,723-square-meter Gyerim is Gyeongju's sacred woodland area and the birthplace of Kim Al-ji, founder of the illustrious Gyeongju Kim clan. Thick with zelkova trees and wangbeodeul (salix Koreensis Anderss.), it is known as Korea's oldest woodland. Moreover, from A.D. 65 to 307, Gyerim was used as the name of the Silla Kingdom itself. Home to the oldest trees of all Korea's ancient gardens, this grove is steeped in legend. The remains of Anapji, the pond of Silla's East Palace, were uncovered by an excavation team in 1975. According to Samguksagi (History of the Three Kingdoms), in the 12th month of the 14th year of King Munmu's reign (A.D. 674), "a pond was dug within the palace grounds, where artificial mountains were constructed, and flowers, rare birds, and deer brought." The section on Gyeongju in the Donggungnyeoji-seungnam (Augmented Survey of the Geography of Korea) states: "Anapji lies to the north of Cheonjusa Temple, where King Munmu created a pond within the palace grounds, piled up stones to make mountains symbolizing the 12 peaks of Mt. Musan (Wuehan in Chinese), and brought in flowers and birds. To the west is the site of Imhaejeon Pavilion, whose stone foundation and steps remain in an open field." Anapji Pond extends some 190 meters from east to west as well as north to south, encompassing an area of 15,658 square meters and with stone-trimmed banks. To the east and north of the pond, artificial mountains were built to symbolize the 12 peaks of Mt. Musan, while palace buildings stood to the west and south. The sloped eastern bank resembled an exquisitely curved coastline, and within the pond were three islands symbolizing Samsinsan, or "Three God Mountains." Along the banks of the pond and the slopes of the man-made mountains were three beautiful arrangements of about a thousand uniquely shaped rocks, each a little less than a man's height. Anapji was a garden conceived as a scaled-down version of the world of Taoist immortals. The method of arranging the intriguingly shaped rocks is similar to a technique described in the oldest record of Japanese gardening, the 11th-century Skuteiki. From this source, we can see that the entrance where the water flowed in was also similar to a Japanese garden. It seems likely that Korean garden landscaping influences were eventually transmitted to Japan.
Changdeokgung Huwon Garden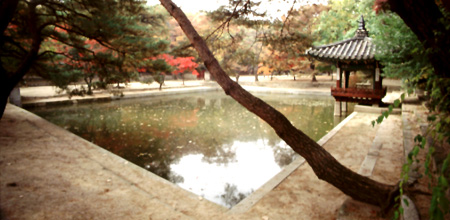 The most significant palace garden remains of the Joseon era (1392-1910) is the Huwon garden of the Changdeokgung Palace, commonly known as "Rear Garden." Built in 1405, Changdeokgung served as a royal palace through 1910 for successive kings of the Joseon Dynasty and the Emperor of the Daehan Empire (1897-1910). In 1997, Changdeokgung and its Huwon garden was added to the list of UNESCO World Heritage properties, making this world-acclaimed garden a must-see attraction for sightseers in Seoul. The Huwon garden covers an area of about 300,000 square meters, with its highest point reaching 98 meters above sea level. Arranged in harmony with the landscape, and not unduly dominating the hillside, are 17 pavilions, including Buyongjeong, Aeryeonjeong, Huiujeong, Jondeokjeong, Taegeukjeong, and Cheongsimjeong. Nearby buildings include Juhamnu, Yeongyeongdang, Yeonghwadang, and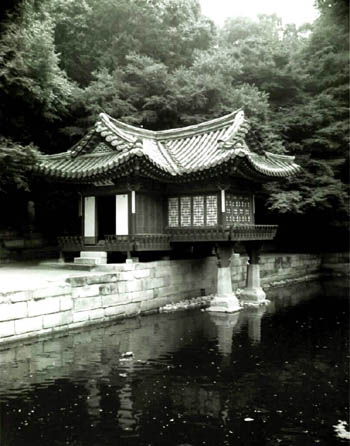 Seonhyangjae. The ponds, mostly round in shape, include Buyongji, Aeryeonji, Jondeokji, Banwolji, Eosutaekji, and Gwallamjeongji.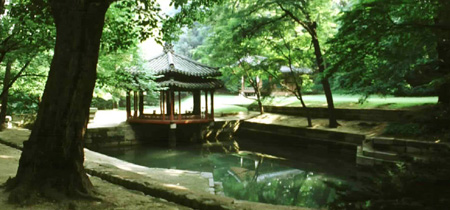 The area is home to several extraordinary trees, including a 700-year-old darae namu (Actinidia arguta), 600-year-old Chinese juniper, and zelkova tree several hundred years old, along with various dolbae namu (Rosaceae Pyrus pyrifolia (Burm.) Nakai), mulberry, chestnut, yew, pagoda tree, white oak, and overcup oak. There are also shrubs and bushes under 3 meters in height: about 300 species of plants in all. Among them, these darae namu and Chinese juniper have been designated natural monuments. Distinctively shaped rocks are arranged around the pavilions, walls, and flowerbeds, together with landscaping along the sloping banks. Attractive stone bridges cross a little stream. There are fruit trees, mulberry trees for silk worms, apricots, Japanese apricots, cherries, and peonies, while taller trees such as zelkova and pagoda trees form a lush woodland. Although Huwon is a man-made garden, its natural beauty is magnificent. Walking the 2-kilometer path through the garden, people can feel that they have become one with nature. In fact, Korean kings would often visit the garden to consult with their confidants and contemplate weighty matters.
Heewon Garden
Soswaewon garden, located in Jigok-ri Village, Nam-myeon, Damyang-gun, Jeollanam-do province, was created by the scholar Yang San-bo during the reign of Joseon's King Jungjong (r. 1506-1544). Within a 9,900-square-meter area surrounded by boulders, Gwangpunggak Pavilion, Jewoldang Hall, flowerbeds, ponds, a single-log bridge, and a water wheel create a picturesque landscape. The garden is imbued with the philosophy of scholars who enjoyed a self-sufficient lifestyle while immersed in nature and scholarly pursuits. Soswaewon clearly reflects its creator's desire to abide by the principles of nature. In particular, the garden makes extensive use of natural features, whose original state is maintained as much as possible. The garden is a representation of the ideal world that scholars sought to find when they retreated from public life to the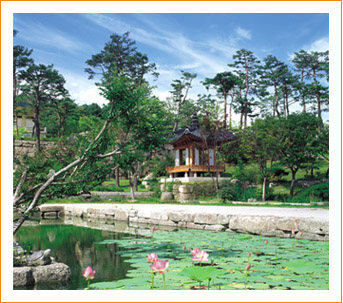 solitude of the countryside. Deep in a valley on Bogildo Island, Wando-gun, Jeollanam-do, lies Buyongjeong, a garden created by the Joseon poet Yun Seon-do. At the entrance to the garden, Yun built Seyeonjeong Pavilion, alongside a gyeryu (small stream), and a 2,000-square-meter pond with banks formed of flat stones about 11 meters in length. Nearby, he built another pond of about 820 square meters in area, in addition to installing Dongdae and Seodae platforms, a stone bridge, and Seyeonjeong Pavilion. Deeper into the valley, he built Dongcheonseoksil, a one-room pavilion that he used as a study. On the slope of a hill across the valley, he constructed Nakseojae, a hall where he instructed young scholars. The woods of Buyongjeong were the birthplace of the literary figure Yun Seon-do, author of Eobusasisa (The Four Seasons of the Fisherman), and a retreat for literati to commune with nature. A garden that adopts these elements of traditional landscape architecture is Heewon, created in 1997 at the Ho-am Art Museum. Heewon is based on a "principle of borrowed scenery" (a technique of bringing natural scenery into a garden setting) that forms the foundation of traditional garden aesthetics. On a site of about 6,000 square meters, the garden restores the topographic contours of long ago and highlights the features of traditional garden landscaping: stone steps and pavilions, ponds, and walls.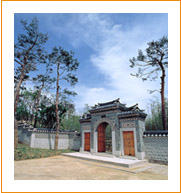 With such features as Bohwamun Gate (modeled after the Yuhyeon-mun Gate of Deoksugung Palace), a bamboo grove (once a common sight in the gardens of ordinary homes), the harmonious blending of Sowon Garden's pond and pavilion, and the gyeryu flowing into the pond, visitors can experience the tranquil atmosphere of old-time gardens. The most noteworthy attribute of Heewon is its preservation of the traditions of the Korean garden. In fact, in parts of Heewon, you can enjoy a beauty and atmosphere like that of Changdeokgung Palace Huwon Garden. Korean gardens embody a philosophy of adapting to nature in its original state. The elements of a Korean garden include land, structures, flowers and trees, streams and ponds, rocks and walls, bridges and paths. A garden brings these elements together into harmony within a defined space through an orderly and functional arrangement. In a garden, Koreans enjoy a sense of inner peace from becoming one with nature. Gardens can also serve practical purposes, such as for growing fruit or medicinal herbs, in addition to being delightful playgrounds. Sometimes they are used as an inspirational backdrop for writing poetry, or a spiritual training ground for meditation. The influences that shaped the identity of the Korean garden include Korea's natural environment as well as the lifestyle and ideological values of its people, which have changed with the times.
In a garden, Koreans enjoy a sense of inner peace from becoming one with nature. Gardens can also serve practical purposes, such as for growing fruit or medicinal herbs, in addition to being delightful playgrounds. Sometimes they are used as an inspirational backdrop for writing poetry, or a spiritual training ground for